Psihologia românilor. Diferențe și asemănări în spațiul european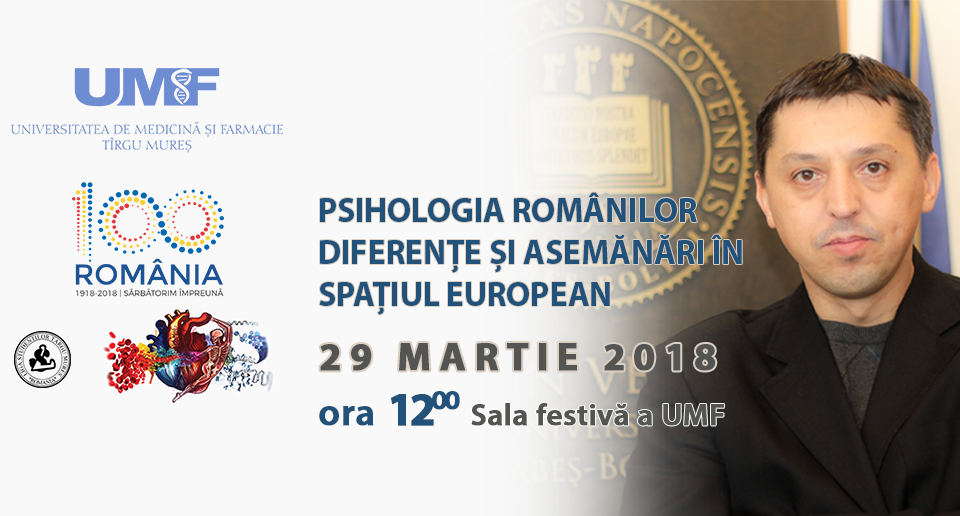 Departamentul de Consiliere, Orientare Profesională şi Informare Studenţi (DCOPIS) din cadrul Universității de Medicină și Farmacie din Tîrgu Mureș, în parteneriat cu Liga Studenților, organizează joi, 29 martie 2018, ora 12.00, în sala festivă a Universității, conferința cu tema "Psihologia românilor. Diferențe și asemănări în spațiul european", susținută de către prof. dr. Daniel David.
Prof. Daniel David este profesor "Aaron T. Beck" de psihologie clinică şi psihoterapie la Universitatea "Babeş-Bolyai" din Cluj-Napoca, profesor asociat (adjunct professor) la "Icahn School of Medicine at Mount Sinai", New-York, SUA, directorul programului de cercetare la "Albert Ellis Institute", New York, USA şi preşedinte al "International Institute for the Advanced Studies of Psychotherapy and Applied Mental Health".
"Tema conferinței este una extrem de importantă, deoarece implicațiile care decurg din cadrul informațiilor care vor fi prezentate se referă atât la personalitatea și psihologia pacienților români sau/și europeni, cât și la modalitatea noastră generală de a reacționa și de a ne comporta în diferite circumstanțe: profesionale, familiale și sociale. Așadar, conferința se adresează tuturor cadrelor didactice din UMF Tîrgu Mureș, medicilor, indiferent de specialitate, asistenților medicali și psihologilor", a precizat psiholog dr. Cosmin Popa, șef de lucrări în cadrul UMF Tîrgu Mureș și coordonatorul DCOPIS.
Conferința se desfășoară în cadrul Congresului Internațional pentru Studenți, Tineri Medici și Farmaciști "Marisiensis", care are loc în perioada 28 martie – 1 aprilie 2018.