The application process for international students at UMFST Târgu-Mureș has begun! Early admission, a unique admission system for international students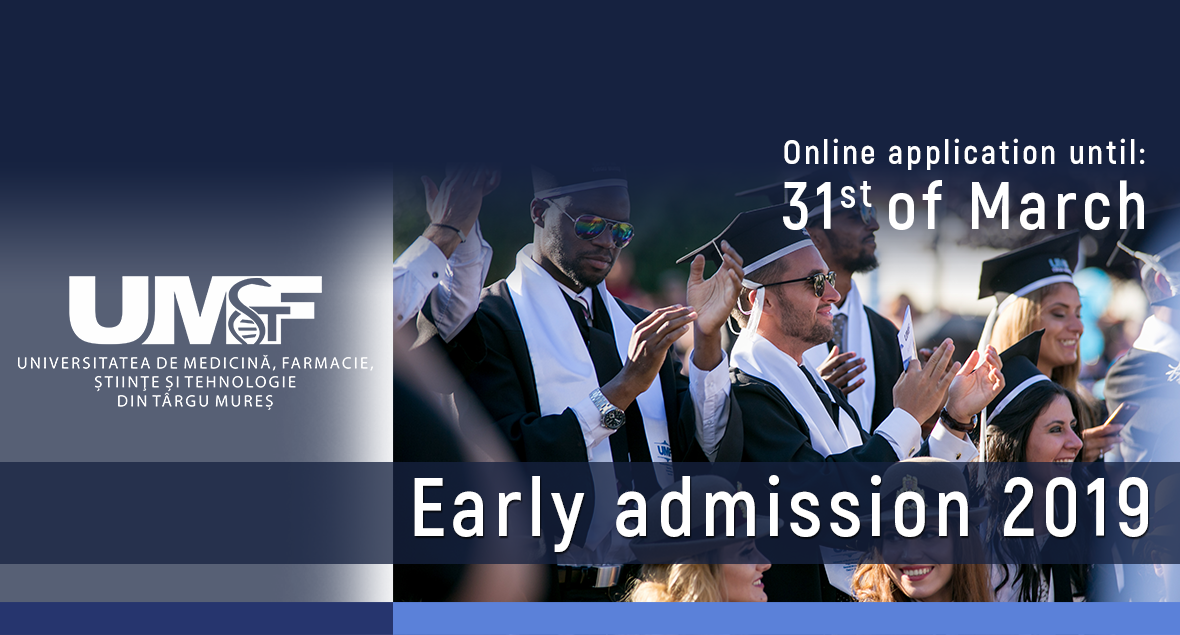 The University of Medicine, Pharmacy, Sciences and Technology of Târgu Mureș would like to inform the foreign students that they can now consult the schedule for the March-April 2019 admission session, for study programmes in English, at the Faculty of Medicine and the Faculty of Dentistry.
Just like in the previous three years, UMFST Târgu-Mureș offers foreign applicants two admission sessions: "early admission," in April 2019, and "regular admission," in September 2019.
At the same time, UMFST Târgu-Mureș is initiating the admission process to its branch in Hamburg, Germany.
The "early admission" procedure is unique in our country, but extremely common in big universities abroad. It is part of the e-UMFST platform, developed under the concept of Smart University, and has been carried out successfully for four years.
Through the "early admission" procedure, the applicants who wish to become students at our University can fill in the online admission applications, during 1-31 March, which will be assessed by a commission consisting of professors from our University.
The interview will be online, via Skype, between 9-17 April, and the results will be known on 6 May. The applicants will have to pay, on 21 May, a reservation fee, and on 31 July, they will have to submit the application with the documents necessary for the release of the acceptance letter. These documents will be presented in the original by 23 September.
"Early admission" has the advantage of offering acceptance a few months before most applicants, on condition that the applicants have very good results at the Baccalaureate or its equivalent in the country of origin.
Currently, there are 700 international students at UMFST Târgu-Mureș, who come from 50 different countries.
The schedule for the 2019 Early admission can be found here: https://www.umfst.ro/admission/admission-2019/early-admission-2019.html.
For more details, please call 0265-215.551 – extension 173, or write to grosan.dan@umftgm.ro. Contact person: Dan Groșan.
The registration platform is available here: https://admission.umfst.ro/.